Curious about Google? Learn more about Google's history, values, people, and technology.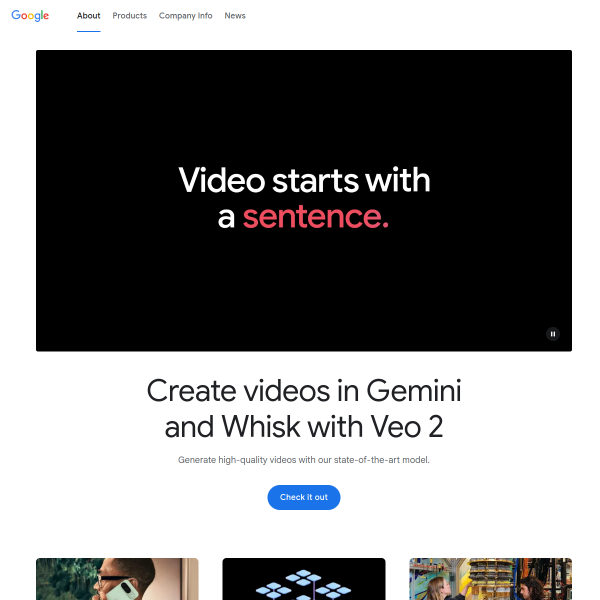 loading...

Google LLC is an American multinational technology company that specializes in Internet-related services and products, which include online advertising technologies, search engine, cloud computing, software, and hardware. It is considered one of the Big Four technology companies, alongside Amazon, Apple, and Facebook.Google was founded in September 1998 by Larry Page and Sergey Brin while they were Ph.D. students at Stanford University in California. Together they own about 14 percent of its shares and control 56 percent of the stockholder voting power through supervoting stock. They incorporated Google as a California privately held company on September 4, 1998, in California. Google was then reincorporated in Delaware on October 22, 2002. An initial public offering (IPO) took place on August 19, 2004, and Google moved to its headquarters in Mountain View, California, nicknamed the Googleplex. In August 2015, Google announced plans to reorganize its various interests as a conglomerate called Alphabet Inc. Google is Alphabet's leading subsidiary and will continue to be the umbrella company for Alphabet's Internet interests. Sundar Pichai was appointed CEO of Google, replacing Larry Page who became the CEO of Alphabet. The company's rapid growth since incorporation has triggered a chain of products, acquisitions, and partnerships beyond Google's core search engine (Google Search). It offers services designed for work and productivity (Google Docs, Google Sheets, and Google Slides), email (Gmail), scheduling and time management (Google Calendar), cloud storage (Google Drive), instant messaging and video chat (Duo, Hangouts), language translation (Google Translate), mapping and navigation (Google Maps, Waze, Google Earth, Street View), video sharing (YouTube), note-taking (Google Keep), and photo organizing and editing (Google Photos). The company leads the development of the Android mobile operating system, the Google Chrome web browser, and Chrome OS, a lightweight operating system based on the Chrome browser. Google has moved increasingly into hardware; from 2010 to 2015, it partnered with major electronics manufacturers in the production of its Nexus devices, and it released multiple hardware products in October 2016, including the Google Pixel smartphone, Google Home smart speaker, Google Wifi mesh wireless router, and Google Daydream virtual reality headset. Google has also experimented with becoming an Internet carrier (Google Fiber, Google Fi, and Google Station).Google.com is the most visited website in the world. Several other Google services also figure in the top 100 most visited websites, including YouTube and Blogger. Google was the most valuable brand in the world as of 2017, but has received significant criticism involving issues such as privacy concerns, tax avoidance, antitrust, censorship, and search neutrality. Google's mission statement is "to organize the world's information and make it universally accessible and useful". The company's unofficial slogan "Don't be evil" was removed from the company's code of conduct around May 2018, but reinstated by July 31, 2018.

The people is a term used frequently in law and politics.

Learning is the process of acquiring new, or modifying existing, knowledge, behaviors, skills, values, or preferences. The ability to learn is possessed by humans, animals, and some machines; there is also evidence for some kind of learning in certain plants. Some learning is immediate, induced by a single event (e.g. being burned by a hot stove), but much skill and knowledge accumulates from repeated experiences. The changes induced by learning often last a lifetime, and it is hard to distinguish learned material that seems to be "lost" from that which cannot be retrieved.Humans learn before birth and continue until death as a consequence of ongoing interactions between people and their environment. The nature and processes involved in learning are studied in many fields, including educational psychology, neuropsychology, experimental psychology, and pedagogy. Research in such fields has led to the identification of various sorts of learning. For example, learning may occur as a result of habituation, or classical conditioning, operant conditioning or as a result of more complex activities such as play, seen only in relatively intelligent animals. Learning may occur consciously or without conscious awareness. Learning that an aversive event can't be avoided nor escaped may result in a condition called learned helplessness. There is evidence for human behavioral learning prenatally, in which habituation has been observed as early as 32 weeks into gestation, indicating that the central nervous system is sufficiently developed and primed for learning and memory to occur very early on in development.Play has been approached by several theorists as the first form of learning. Children experiment with the world, learn the rules, and learn to interact through play. Lev Vygotsky agrees that play is pivotal for children's development, since they make meaning of their environment through playing educational games.